To Succeed Online, You Need "Blog-In-A-Box"
Getting Traffic and Growing your Business Made Easy
You've been thinking about starting your own Blog, but your not sure how to get started. You need SEO Game Plans' "Blog-In-A-Box". We've been building websites for over 12 years, and we know how hard it can be to get started. If you do manage to get your blog up and running, how do you keep it up to date with all the latest gizmos and plugins? But more than that, what do you do once your have a Blog??
You need the right tools and the right plan to succeed online.
How does IT WORK?
Simple. We charge a one time fee of $850.00 for everything. That includes one year of hosting and a domain name. We will register your domain name, build your blog site and hand over the keys. But unlike all those so called "Discount Hosting" companies, we don't stop there. We Give you a Game Plan! An easy to follow, Step-By-Step guide to getting more traffic to your site. We help you grow your business. We provide the Tools you need and the Game Plan to Succeed.

After the first year, hosting can run as little as $14 per month, depending on your traffic and additional features. You get a state of the Art Web 2.0 Blog Site, and a Strategic Game Plan to help get traffic to your site with zero hassle. Now you have to admit, that is a sweet deal!
Focus on your Business, NOT your Technology
Yes, you can build a blog and do it yourself, but why? We spend our days (and nights sometimes) thinking about this stuff. Let us deliver a fully functional, state of the art Blog Site. This way, you focus on growing your business and not trying to figure out how to chase after technology.
Why Build your own Blog when you can get one for free?
Part of your SEO Game Plan needs to include your own blogsite. Sure you can get a blog for free at Blogger.com or WordPress.com, but if you do that, you'll be building up their site, not yours. Part of a complete SEO Game Plan includes building traffic to your site. SEO Game Plan recommends building using a blog as your Primary Internet Site. Why? Because Blogging Emulate the best practices of good Search Engine Optimization, and distributes your message much better that a traditional website. With a Blog-In-A-Box Package, we get you started on the right path. With our state of the art custom Blog installation, your site will be miles ahead of the competition.
Just look at all the stuff we do to make sure your Blog is Web 2.0 / SEO to the Max!
the blog in a box Packages include
A completed, operational Blog
Up-to-Date WordPress Plugins for Optimal SEO Capability
XML Site Map
Google Webmaster Account
Feedburner RSS Feeds
Technorat Blog Claim
Share This Web 2.0 Feature
Full SEO Feature Set
cPanel and WHM Control Panel
Separate C Class IP's
Separate C Class Nameservers
No Contract
Lesson of Best Blogging Practices
Advanced SEO Training
Star Blogging right away
Access to Keyword Tools
Professional SEO Blog Templates
99.9% Uptime Guarantee
Google Analytics installation
Web site traffic reports
email set up
domain name set up
SEO Hosting on C CLASS IP
Automatic Backups
Access to SEO / Web Development Team
---
What is your time worth?
SEO Game Plan Blog-In-A-Box was designed for webmasters and Business Owners that require advanced Search Engine Optimization tools. Want to get found on the Search Engines? We work hard to make sure your Blog is State of the Art and gets your content discovered online.
More than just The Tech Stuff!
We are called SEO Game Plan for a reason. We don't just deliver you a sweet Blog and say Good Luck. We include training. Training and Strategy that will open your eyes to getting more traffic. You need both the Tools AND the Strategy to succeed, and our Blog-In-A-Box package delivers both.
Testimonial:

"As Promised, The Guys at SEO Game Plan delivered Traffic and More Customers to my Business. CALL THEM" - Bob Graham
IFA Web News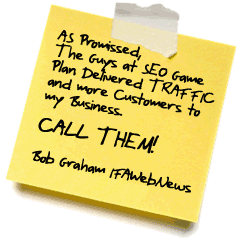 Call us today. 1-888-SEO-BLOG